Do not discuss choice for PM publicly, says Rajnath Singh to BJP leaders
Edited by
Shamik Ghosh
| Updated: February 04, 2013 20:36 IST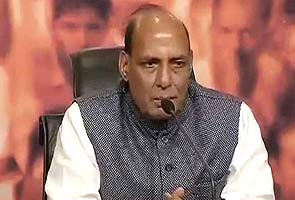 New Delhi:
An oblique attempt last week clearly did not work and new BJP president Rajnath Singh was today forced to tell his party men in no uncertain terms that speculation on the prime ministerial candidate for next year's general election is not welcome. There has been a buzz around the name of Gujarat Chief Minister Narendra Modi ever since senior BJP leader Yashwant Sinha suggested that he be named for that role.
"I appeal to all BJP leaders not to comment on the party's PM candidate," Mr Singh said in New Delhi. "If they are asked, they must say that the central parliamentary board will take a decision," he added.
Not much later in the day, at least three leaders ignored the request. Prominent MPs Shatrughan Sinha, CP Thakur and Maneka Gandhi said separately that Gujarat Chief Minister Narendra Modi was their choice to lead the party in the general elections. Earlier, Ram Jethmalani had endorsed Mr Sinha's comment last week that party workers wanted Mr Modi as the BJP's choice for PM and naming him now would benefit the party hugely in next year's elections.
Mr Sinha's statement and the chorus thereafter have also marshaled strong reactions from important allies. Sharad Yadav of the Janata Dal (United), scoffed at partner BJP leaders seemingly tripping over each other to participate in the Modi-for-PM debate. "In my political career of 64 years I have never seen such a mad rush to find a PM candidate," he said, suggesting that the National Democratic Alliance or NDA allies raise more important issues like price rise and corruption.
The JD(U), which has partnered the BJP for a decade and a half, is as clear as ever that the fact that the riots of 2002 in Gujarat took place on his watch, make Mr Modi unpalatable. Bihar chief minister Nitish Kumar of the party has said that he will have to rethink the partnership if Mr Modi is picked for PM by the BJP.
The Shiv Sena, which also participates in the National Democratic Alliance that the BJP leads has said that Sushma Swaraj, Leader of the Opposition in the Lok Sabha, was the preferred choice of its president, Bal Thackeray, who died in November last year. But then there is the Akali Dal, which said it would like Narendra Modi to head the alliance in the elections.
Mr Modi himself is reportedly uncomfortable with the premature speculation, sources said. After an RSS-sponsored rapprochement with the BJP last week, another Sangh affiliate, the Vishwa Hindu Parishad has praised Mr Modi as the BJP's "most popular leader". But Mr Modi is reportedly less than enthusiastic about that endorsement and is skipping a big meeting of VHP-backed saints at the Mahakumbh mela now on in Uttar Pradesh.
Several other senior BJP leaders are expected to attend the Kumbh meeting, where the relaunch of a soft Hindutva agenda is reportedly planned; the saints are expected to resurrect the demand for the construction of the Ram temple in Ayodhya, once a key electoral issue for the BJP, but which had been pushed to the backburner in recent years. Mr Modi himself has in these years painstakingly attempted to change his image from that of a Hindutva poster boy to a mascot of good governance, and would like to continue that effort.
The BJP leadership too is reluctant to make a Modi-for-PM announcement just yet. Sources say it so far plans to induct Mr Modi into the party's highest decision-making body, the parliamentary board, during an exercise to set up Rajnath Singh's new team after his election is endorsed at a party meet later this month. Mr Modi is also expected to be given charge of the party's campaign committee for the Lok Sabha elections.
http://www.ndtv.com/article/india/do-not-discuss-choice-for-pm-publicly-says-rajnath-singh-to-bjp-leaders-326185?pfrom=home-otherstories